Foodservice - Uncured Real Bacon Bits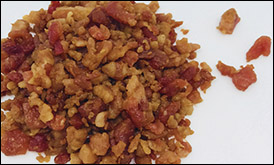 "7 out of 10 adults are trying to eat healthier when dining at a restaurant"
-- National Restaurant Association --

Bacon is a must-have on salad bars. It's also an upscale topper on soups and potatoes, and popular addition to recipes. While all bacon is cured in some way, the difference between traditional bacon bits/pieces and uncured bacon bits comes down to ingredients. Westin Packaged Meats uncured bacon bits use naturally occurring nitrates and nitrites found in celery powder and sea salt. No artificial flavors, colors, or preservatives are added.

This product is available in the following size packages:

Two 5 lb. bags
30 lbs. box


This is a REFRIGERATED product. Product must be kept refrigerated to ensure freshness and provide the best product performance and flavor.
More Product Details:
Fully cooked to lock in freshness
Conveniently packaged
Produced in USDA inspected facilities to ensure quality