Retail Bacon Bits & Pieces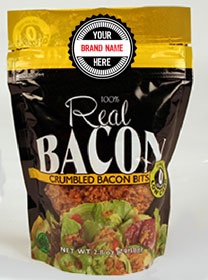 Our fully cooked Bacon Bits and Pieces are made from top quality bacon; making them convenient, spreadable and 100% usable.  Packaged in convenient pouches for portion control and sealed for freshness, bacon lovers will see and taste the difference. Pouches are shelf stable until opened. Perfect for pizza toppings, salads and egg dishes.
This product is available in the following size packages:
2.5 oz.
2.8 oz.
3 oz.
4.5 oz.
9 oz.

More Product Details:

Fully cooked to lock in flavor and remove excess oils.
Conveniently packaged to your specifications.
100% yield and usage for reduced operation costs, less clean-up and lower waste.
Private Label available.
Produced in USDA inspected facilities to ensure quality.