Food Service Bacon Flavored Bacon Bits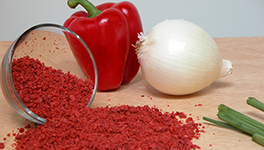 Our Bacon Flavored Bacon Bits are made from homegrown soybeans and have a savory, smoky, bacon taste.  These pieces are excellent on salads, soups, potatoes, dips and more.  The Bacon Flavored Pieces are a tasty alternative to real bacon bits and are cholesterol and trans fat free – it's the perfect way to add the taste of bacon to your plate without the fat!

Manufactured in our state-of-the-art bacon facility, they are Certified Kosher by the Greek Orthodox Union. This product is gluten free and vegetarian/vegan.
This product is available in the following size packages:
5 lb.
10 lb.
20 lb.
25 lb.
30 lb.
45 lb.
250 lb. tote
1000 lb. tote
More Product Details:
Conveniently packaged to your specifications.
Private Label available.
Produced in an FDA inspected, and registered facility, with SQF level 3 certification.